Hybridizing (crossing) daylilies is fun, easy to do, rewarding and easily becomes an obsession. The crosses you can make will produce many seeds that are easy to grow with a wide range of color. In producing new varieties of daylilies you must first have a goal. Now more than ever, we have a great variety of choices. The new color ranges include eyes and edges with the purest colors of white, cream, pink, purple, red, and orange. An extended bloom season of daylilies will make your garden a show stopper of color and form, thus giving you more enjoyment garden through out the summer and fall.
There are two types of daylilies, diploid and tetraploid, the latter possessing a greater value of chromosomes. In hybridizing, you must breed diploids on dips and tetraploids on tets. Pollen cannot be transferred from dip to tet or vice versa.
Your goal is the most important plan when selecting daylilies to purchase. We enjoy breeding both diploid and tetraploid. I prefer diploids because of their clean color. In our tetraploid program we breed for good color, bud count, branching and dormancy. Diploids are easy to breed and produce more seeds, and we are striving for the same qualities that we are searching for in our tetraploid program .
Decide on the size and form of the flower you interested in. Daylilies are available in small, medium and large flowers, ranging from less than 3" to 8", even larger in variant forms.
You may choose from many forms such as doubles, singles, spiders, variants, cascading, and unusual forms. Plant habit includes foliage, bud count and great branching. Habit of a plant adds to the appearance of your garden.
These are just a few characteristics and goals that will help you make your selections when you choosing the parentage in your breeding program.
Hybridizing is best done in the early morning. You are more likely to get good seed set by doing your crossing early. Pollen must be open and ready for use. Sometimes you may store your pollen in the refrigerator or in medicine bottles in your freezer.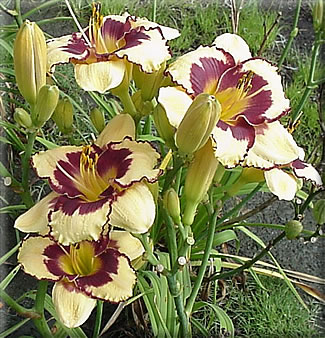 Circle Of Friends
Make sure your crosses are in the same chromosome family (tetraploid or diploid). Break off a stamen which has the pollen attached make sure the pollen is fluffy. Rub the pollen against the pistil of the flower you want to cross. We breed for dormancy and try to use a dormant pod parent. The pod parent is where you get your plant habit. Record your crosses to insure good record keeping.
If your crosses are successful a pod will form. When the pod matures it will crack, Now is the time to harvest your seed. You may gather the seeds placing them in a small envelope with their parentage written in pencil. Record keeping on parentage is important. Make sure you write your crosses on the envelope putting you pod parent first and your pollen parent last. Keep the seeds in a plastic bag in the refrigerator until you enough seeds to plant. You may plant your seeds in a sterile planting mix in a 4" pot, making sure the pot is kept watered. You can also plant the seeds directly in the ground.
Seedlings should sprout within two weeks. Usually you can see bloom in two years or less. Now your selection process will begin. Hybridizing is a lot of work and planning but well worth your efforts. It gives you something new to look forward to each season.
John Shooter
910-827-9791
mail@mariettagardens.com